2020 RMR Sticker Capsules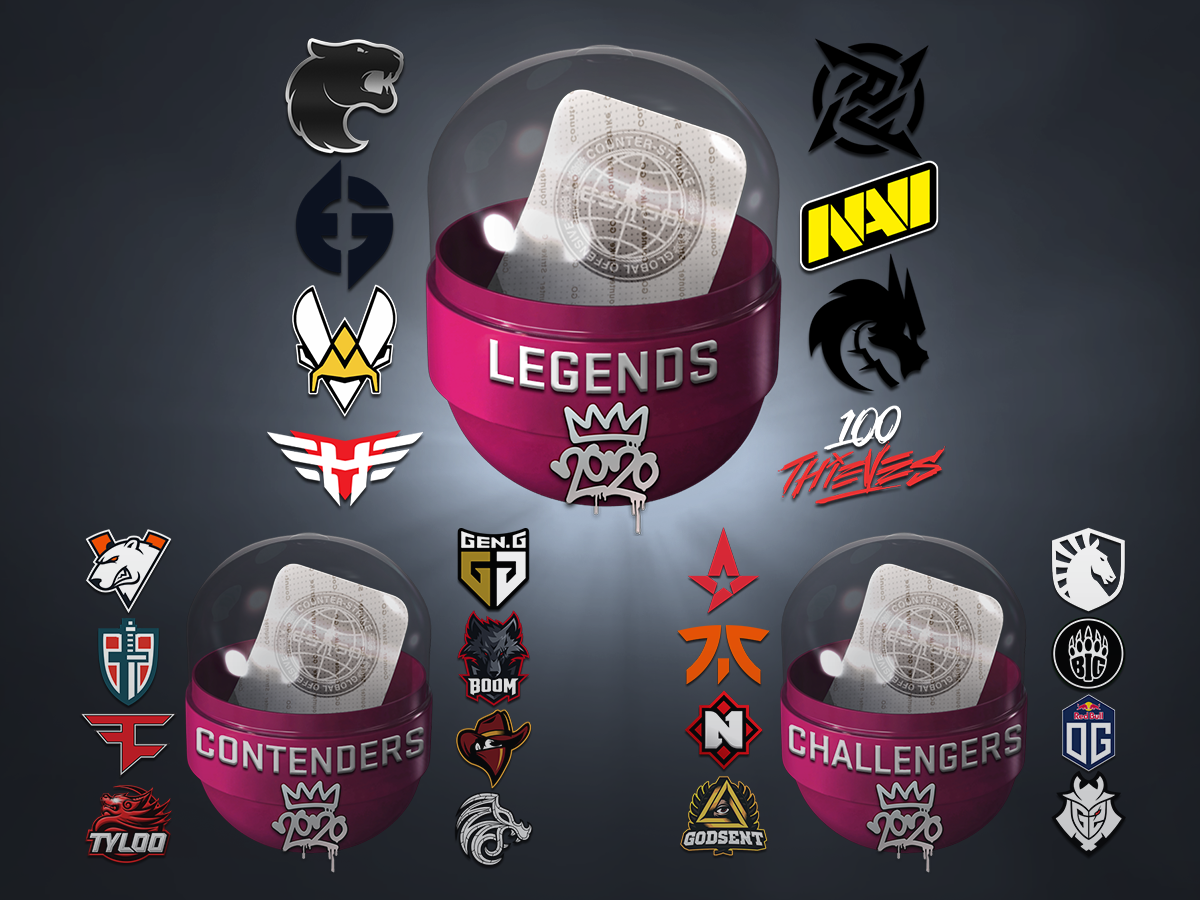 Over the past year, the top CS:GO teams in the world competed in regional ranking events for invitations to a Major Championship. Ultimately there would be no Major in 2020, but it is important that fans have an opportunity to celebrate and recognize the hard work of the best teams of 2020. So we're excited to announce 2020 CS:GO RMR Capsules.
These capsules represent the teams that would have received invitations to the 2020 Fall Major, broken down by their invitation status (Legend, Challenger, Contender). You can find the final RMR scores and standings here.
For these stickers, 50% of the proceeds directly support the teams.
2021 RMR Events
We will continue to hold regional RMR events to identify the 24 teams to invite to the 2021 PGL Stockholm Major. In the link below you can find all the details and updates to the 2021 RMR event system, but here are some highlights: RMR points are reset for 2021, however the 2020 RMR Legends will start with 600, Challengers with 300, and contenders with 100 points. Teams can now specify a substitute player (any player who is not registered to participate or substitute for another team) that is separate from their coach. A team incurs a penalty when they substitute out a player in an event, but there is no penalty when that player is brought back in. During online matches only players are allowed in the room and on the server. Neither coaches nor any other team staff will be allowed in the room, on the server, or to otherwise communicate with the team during an online match.
The full details of the 2021 RMR system can be found here.
Coaching Integrity
In September of 2020 we were alerted to the fact that many professional coaches were exploiting a coaching-feature bug to gain an unfair advantage during matches. You can read about our initial response here.
Since then, ESIC has published the findings of their investigation and the resulting sanctions. You can read about them here.
As our follow up, we have decided that coaches that exploited the camera bug will be ineligible to participate in some number of future Valve-sponsored events–that number to be determined by the extent of the abuse.
The following table translates ESIC demerits into Major ineligibility:
| | |
| --- | --- |
| ESIC Demerits | Number of Majors to Miss |
| 2 | 1 |
| 3 | 2 |
| 4 | 3 |
| 5 | 5 |
| 6+ | All |
In addition to consequences for individuals, we have also thought about how commonly coaches exploited the bug, for how long it went unreported, as well as how common coach stream-sniping accusations have been.
To avoid the diminished integrity of coaching from casting a shadow on the integrity of Valve-sponsored events, we'll be changing the restrictions on support staff in the following way:
During online matches only players are allowed in the room and on the server. Neither coaches nor any other team staff will be allowed in the room, on the server, or to otherwise communicate with the team during an online match. Quelle: https://blog.counter-strike.net/de/index.php/2021/01/32679/